April 1, 2005
The drive to the Honduras/Nicaragua border went by quickly as we drove along the upper reaches of the Gulf of Fonseca. The gulf is shared by Honduras, El Salvador and Nicaragua and is in a hot lowland area. As we drove along we could see large ocean-going ships at anchor at the Honduras port.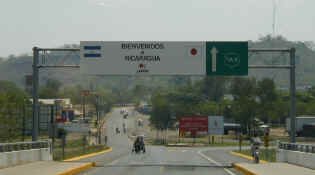 At the border it was time to go through all the formalities that we have become accustomed to, having already crossed 4 borders. We had read about other travelers using local "assistants" to help with the formalities, so we decided that since the cost was low we would hire one. As we drove toward immigration, we were almost besieged by these assistants. Some tried to follow on their bicycles, others tried to flag us down.
When we were finally stopped by Honduran officials, one assistant who spoke some English came over to lend a hand, and we ended up hiring him. As it would turn out, he didn't do anything that we didn't know how to do and he probably only saved us a few minutes doing the formalities. I would have to recommend that anyone arriving at the Nicaragua/Honduras border not hire any assistants and just do the work themselves.
We had to pay the normal fees to exit Honduras ($3us), to enter Nicaragua ($2us), to obtain our Nicaragua vehicle permit ($9us) and vehicle insurance ($12us). Then our little friend indicated that there were additional fees of nearly $40us that he would pay for us if we gave him the money. Wrong! I went around with him to make the required payments and after I realized that the money would be bribes or "gifts" I refused to pay and we drove away. The lesson here is 1) do the work yourself - its not difficult, and 2) make all payments yourself - never just hand over money to someone else to do the work for you. We feel that our friend probably would go back later and split the money with the officials.
Then it was on to our destination for today, Leon. However, getting there was more difficult than we expected. We chose the southern route into Nicaragua thinking that it would be an interesting drive amongst the volcanoes, rather than the northern route through the mountains. The northern route might have been better.
In 1998 Hurricane Mitch hit Central America and just laid it to waste. In Nicaragua the hurricane dropped so much rain in 10 days that all the rivers flooded and nearly every highway bridge on the Pacific slope was destroyed. Obviously the human suffering was immense. What we saw on our way from the border made us feel that the country still has a way to go. The highway was in terrible shape and there were people filling in potholes with the hope of getting tips from passing motorists.
After about 10 miles we were surprised when our potholed road became a new superhighway. This lasted about 30 miles and we passed over scores of new bridges. Finally our luck ran out and we ended up on the worst road we have been on since we left. The highway crews were out in force building the new road, while all the trucks, buses and vans drove by on dirt bypass roads. It was rough and dusty, and in another year or two this road will be fantastic - but not until then. We did finally hit good road at a town called Chinandega and from then on it was smooth sailing. In remains to be seen how the rest of the country goes!
By the way, we did get to see several great volcanoes, including one which appeared to be letting off steam! Very cool.
Leon was the original capital of Nicaragua and is currently considered a center of university life. From what we saw, Leon still gives off a strong colonial feel with all of the tile roof buildings and narrow cobblestone streets.
Like many other cities, driving into Leon had its own challenges. The main street had big trees which overhung the roadway, causing us to drive down the center of the street. This really isn't a big deal as most buses and all trucks do the same. When we reached a particularly low area, we just turned off the main drag and hoped that we could find a side street to take us into the center of town. We ended up parking a few blocks from the central park and walked the rest of the way.
| | |
| --- | --- |
| Leon has the largest cathedral in Central America, construction having started way back in 1747. We headed there to take a look, and were surprised to find it rather stark. It does have a series of paintings depicting the stations of the cross that are considered to be masterpieces of Spanish colonial art. There are also the tombs of some of Nicaragua's famous sons inside. | |
We wandered around for a while and even found a public parking lot that we could park in for the night. Unfortunately when we returned with the Fuso and measured the entrance, we found it too low for us. We had to leave the city center, but we did find a brand new gas station right on the edge of town that had secure parking where we could spend the night. It wasn't the Ritz, but it felt great.
April 2, 2005
Leaving Leon in the morning we found that contrary to our first impression, the main highways are new and in really good condition. However the same can not be said of the less important roads. We are heading towards the Capital - Managua, where we actually plan on driving around the city without exploring it. The big cities don't usually hold much of interest, or if there is, we have to battle narrow crowded streets with nonexistent parking facilities. Managua is one of these cities. It boasts a population of over one million people and is considered to be one of Central America's least accessible cities. The most interesting area is the Monument Zone which used to be the city's downtown area until the earthquake of 1972 caused the area to be abandoned.
Our guide book indicated that Managua's streets were not signed and would be difficult to navigate. Although we did find that street signs were far and few between, the directional signs for nearby cities were clearly marked. It was rather easy for us to weave our way through the city and get on the right road to the Masaya Volcano National Park. The small park has a pair of volcanoes which between them have five craters. One of the craters is actually in the middle of the two volcanoes and is active - sending up clouds of toxic gas. One surprising thing is that there is a species of parrot that makes their nests on the cliffs inside the crater - despite the presence of the fumes.
We also hiked around a small volcanic cone and explored a series of fumaroles. New birds too, we saw the impressive light throated magpie jay and the pitch black smooth billed ani.
Back at the visitors' center we were welcomed to set up camp for the night. We found a great spot overlooking the Laguna de Masaya and the town of Masaya. After we got ourselves set, we had a new friend stop by, Francisco who is a sergeant in the military and guards the park with three other soldiers. What do you do when you have a person in military fatigues walk into your campsite then asks you if you want to see his AKA machine gun? Although we were a bit uncomfortable, we offered him a glass of ice tea and then tried to get him to leave. It turned out that after 10 years in the military, Francisco was just a bit lacking in social skills but otherwise a nice fellow.
In the morning we'll drive off the volcano and explore the artesania (artisan) markets of Masaya.
April 3, 2005
We arrived at the artisan market about mid morning. As soon as we found a spot on the street to park, two boys arrived and offered to watch our car for us. While we haven't felt any need for guards anywhere we've been, we decided that these boys could use the money and extra security isn't a bad thing.
At the market we found the first real handicrafts we've seen since Guatemala and there were some nice things. After exploring for a while we decided to purchase two "chair" hammocks. These you can sit or recline in as opposed to the traditional hammock that you can only lie in. After making our purchase, we decided to have lunch and found a restaurant that served traditional Nicaraguan food. We got one order of vigoron which is fried pork rind (chicharon) on a bed of steamed yucca and coleslaw, served on a banana leaf, and one order of tajadas which was plantain chips with with fried cheese and coleslaw. Both of these as a whole were pretty tasty but the chicharones themselves were pretty boring. We were also entertained at lunch by some street musicians.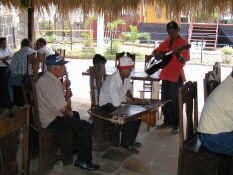 Leaving Masaya, we headed toward the colonial city of Granada. Founded in 1524, Granada stands at the foot of Volcan Mombacho on the northwestern shore of Lago de Nicaragua. From early on, conservative Granada was locked in rivalry with liberal Leon with which it vied for political supremacy. The rivalry intensified after independence from Spain in 1821 and erupted into civil war in the 1850's. To gain the upper hand, Leon hired William Walker to put down the revolution. When Walker was forced to flee in 1856, he torched the city leaving only the infamous placard "Here was Granada".
Most of the buildings were rebuilt in the late 1800's in their original style and the town today has lots of color and charm. We wandered around for the afternoon, witnessing two funerals in progress at the cathedral, and then parked the vehicle on the street across from a hostel whose owner said it was safe to stay there for the night and additionally, he would keep an eye on it. Other than some barking dogs, the street was quiet and peaceful and we notched up a new experience for ourselves.