October 1, 2003
Today we spent much of the day at the Internet Café and buying groceries. After having a wonderful late lunch at the restaurant Veronica, we drove out to the Recowata Falls for the night. The signs showed the way to the ejido entrance, but once inside we could only find the road to the thermal ponds and the canyon viewpoint. It seems that signs in this region are either lacking or nonexistent. We believe that since the locals know the way to the village, the falls, etc., they don't see any reason to put signs up showing the way.
The road to the thermal ponds turned out to have been "paved" by the ejido using rocks and concrete. You might think that after all the trails and rough roads that we have driven on that a "paved" road would be no problem. But considering the method of "paving" combined with an approximate grade of 10%, we only made it about ¼ mile before we called it quits and went to the viewpoint to set up camp for the night.
Our initial disappointment at not finding the falls or the ponds was replaced by the enjoyment we got from watching a group of Tarahumara boys perform for us on a couple of bicycles.
| | |
| --- | --- |
| At first the boys were content to just stand around and stare at us, but when they discovered that we would watch their antics, they put on quite a show. At one point Don even tightened the handlebars on one of their bikes for them. | |
One of the boys, Pablo, was very shy and always hid behind something. He lives in the ranchera just below the camping area. When the other boys left, so did he, but he returned shortly with his grandmother. We could see them coming and she climbed the hill to our campsite very slowly. She approached very tentatively and never said a word. When she got as close as she felt comfortable doing, she sank to the ground and started pulling handicrafts out of her bag. She had some of the most beautiful baskets we had seen. After looking over her wares, we purchased a few items and thanked her. When she didn't move to leave right away, we offered her what we had learned to be a treat, a banana. Moving quickly she accepted the banana, smiled, said "Adios" and headed back to her home. Her smile made me very happy.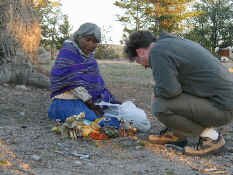 We left Recowata early and continued on the road to Urique. We stopped in Divisadero which is a train stop of the Ferrocarril Chihauhau al Pacifico Line. The train between Chihuahua and Los Mochis is very popular with tourists and Divisidero is the only stop with a view into the canyon. Seeing vendors with fresh cooked food for sale, we had a lunch of chile rellenos and bean & cheese tacos. Yum!
Continuing on we made it to San Rafael where the pavement ended. Once again we were on a rough road without a real clear idea of which way to go. Unpaved roads never have any directional signs so we use our compass a lot and ask directions whenever there is someone to ask.
We use two maps that usually have conflicting information but we try to get an idea of how far we'll be driving between towns. Between San Rafael and Bahuichivo one of the maps said the distance was 30km (18.6mi). We checked our odometer and set off. At 30km there was no sign of a town. Not at 35km or 40km either. We were starting to wonder if we were in fact on the right road. Finally at 45km Bahuichivo arrived, about 7 miles further, almost 50% further than the map showed. Aargh! Anyway, outside of town the road actually improved and we quickly traveled another 11 miles to Cerocahui where we set up camp, once again alongside a beautiful creek. A number of locals came by to chat and it was a pleasant evening.