October 11, 2004
Well, we're ready to head south to Mexico on the first phase of the around-the-world driving expedition - the World of Wonders Project. Hope you'll stay tuned and read about our experiences as we drive through Mexico.
This past week was very hectic as we finished up all the last minute details. Getting ready for a trip of this magnitude takes a lot of planning and organization. Add a brand new vehicle to the equation and life takes a very hectic turn. But we're ready to hit the road and start exploring the wonders of Mexico. We're looking forward to all the interesting people we'll be meeting, the magnificent cultural heritage we'll be studying, the beautiful countryside we'll be seeing and the exciting animals and birds we'll be viewing. We'll be updating the website about once a week so be sure to follow along. Or make it easy on yourself. Just complete the registration form and we'll email you notice of the updates from the World of Wonders Expedition!
Getting on the road took a little more work than we anticipated. Instead of just jumping in the cab and driving off, we were still installing the off-road driving and fog lights and loading up last minute finds from the garage.
Finally, about 4 pm we pulled out of our driveway and headed south. It was obvious that we wouldn't make it to Mexico today, so we headed into the desert just north of Phoenix to spend the night – but we were on the road, and that was the important thing.
Tuesday morning, we still had to make a couple of stops in Phoenix. The most important stop was at a Mitsubishi-Fuso dealer to pick up necessary parts for maintenance and to ask them to loosen up our wheel lug nuts. I know this sounds like a crazy idea, but as we soon found out, the factory had installed the lug nuts with 400 pounds of force so it would have been physically impossible for us to take them off should we have a flat tire.
Then as we were giving the guys at the dealership tours of the expedition vehicle, we found that one of our "heavy duty" drawer slides on our pantry had fallen apart and sent ball bearings scattered around the floor. After a couple of stops we found replacement parts that we would install at the end of the day.
Again we pointed our truck south and got back on the highway. Tonight we made it down south of Tucson, about 30 miles north of the Mexico border. We took our first GPS point and added it to our location list.
October 13th
Buenas Dias Mexico!
Crossing the border into Mexico is always an easy thing – just drive across and wave to the border police who wave back. The real work begins at KM 21 where the Mexico Government has set up their offices where visitors are required to obtain Tourist Cards and in our case, a temporary vehicle import permit. This is usually a quick process, but today their link to issue bonds to ensure that vehicles are taken out of the country had JUST stopped working. So we just got some munchies out of the vehicle and waited. Luckily we only had to wait about an hour and a half before the system came back on, now we were "official", having all the necessary documents to spend the next two months exploring Mexico.
We drove the rest of the day so that we could get to our destination of San Carlos/Guaymas and the first beach for us to camp on. GPS reading.
October 14th
We took an easy pace today, stopping off to top up our supplies and find a fresh fish market. Guaymas is a good size city with a big fishing and shrimping fleet so all we had to do was drive along the waterfront until we found one of the places where the fishermen sell their catch. We loaded up with shrimp and some fish filets before taking a walk around the zocalo, or main square.
Due to its location as a sea port, Guaymas has seen its share of attempted takeovers as both the French and the USA have fought battles there. Generally, the battles in Mexico with the USA are fought against private armies of USA citizens who try to set up independent colonies in Mexico.
The rest of the day was spent driving south. We headed back toward the coast at the small fishing village/pueblo of Las Bocas to find a camping spot. The road to the coast was typical of the roads we'll be finding later on this journey. It started out with nice new pavement then suddenly the entire roadway was nothing but potholes. Then it was good again, then only dirt, then potholes then pavement. It was challenging to find the path of least potholes as we drove across the entire road in a zig-zag pattern.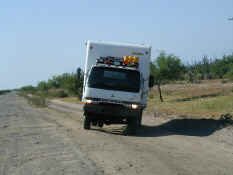 | | |
| --- | --- |
| We camped next to a beach with pangas/fishing boats full of shrimp nets and crab pots. In the early morning, the fisherman came out to their boats and communally pushed them into the water. In about two hours they were back with the boats full of crab traps. Their catch that morning was pretty meager, but we enjoyed watching the boat captains rev their engines as they headed their boats straight in and up onto the beach, raising their outboard engines at just the right moment to avoid running the props into the sand. | |
October 15th
Today was a day when even experienced travelers and explorers show that they're not immune to having problems.
It was a long day spent driving. We'd been driving on the toll roads as they are a bit quicker and generally in better shape than the free roads. Service Stations selling diesel fuel are also found every 30 miles or so. After lunch we drove through the city of Culiacan – known as little Chicago due to the amount of lawlessness caused by the number of narco-traffickers in the area. At this point we decided to travel the libre or free road thinking that it would be easier to find a wild-camp spot for the night.
Little did we know that once we left the city, we would not find any more service stations until we reached Mazatlan. Toward the end of the day, we crossed over a small river and decided to find a spot along its banks to camp. We did find a nice spot, but the locals were so friendly that we were unable to get any privacy to set up camp. We decided to move on.
This was a mistake as we were unable to find another spot, darkness fell and then we ran low on fuel. Even though we carry extra fuel cans, we had not yet filled them up. We stopped in a small pueblo and found everyone friendly and willing to help us find diesel. After about 45 minutes, it turned out that no one had any diesel to sell, but they turned us onto a little secret – many of the restaurants that the truck drivers frequent sell diesel.
Luckily the first place we stopped to inquire had fuel to sell. We filled up with enough to get us to Mazatlan – a good thing because we didn't find another station until we reached the city all the while breaking one of the cardinal rules of driving in Mexico – don't drive at night. An additional note, shortly before arriving in Mazatlan we passed the Tropic of Cancer.
October 16th
Today we spent the day relaxing and exploring Mazatlan. After finding a nice spot at the Mar Rosa RV park, we hopped on a city bus and went to old historic Mazatlan. The bus ran along the malecon (the ocean walk) and passed dozens of hotels and tourist shops. Arriving at the old center we found attractive old colonial style buildings and a beautiful zocalo built with money donated by a grateful immigrant from the Phillipines. There is also an old cathedral that is being beautifully restored and a very large market selling everything from vegetables and clothing to tourist trinkets. We had lunch at the market chowing down on chiles rellenos and chicken mole, yum.
After hopping the bus back to the RV park, we put on our bathing suits and ventured out into the surf. The Pacific Ocean isn't terribly pacific and though the waves weren't large, there was a very strong current and we had to be careful about not getting pulled either out to sea and down the beach. The water was warm however and we spent about an hour frolicking.