---
Buy our Book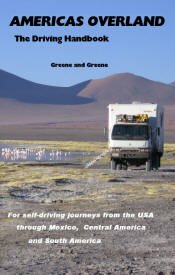 Thinking about driving across the America's? We have completed the first book based on the World of Wonders Project, AMERICAS OVERLAND, The Driving Handbook. This is THE essential,comprehensive driving guide for anyone planning to drive overland through Mexico, Central and South America.
You can order your copy of AMERICAS OVERLAND. Click here to read more about the book and to place your order.

---
Lend a Helping Hand
Your support makes a huge difference! Our journeys confirm that individuals do make a difference in our understanding and respect for the planet as a whole. Charitable contributions from people like you help us in promoting the goal of building greater understanding between people of different cultures around the world.
You can help to make the Virtual Classroom available to students by making a donation today.
---
Adventure Learning Foundation (ALF) is an Internet-based non-profit organization that provides curricula enhancing materials to educators based on online Adventure Learning Expeditions. Our explorers travel around the World providing "virtual" cultural and travel experiences for teachers and students alike.
Students and teachers are "virtual" participants in the journeys, communicate and interact with the expedition members as well as with other students and teachers around the world.
The Expeditions combine educational projects and activities for students and provide resources for teachers designed to enhance curricula.
Perhaps travel cannot prevent bigotry, but by demonstrating that all peoples cry, laugh, eat, worry, and die, it can introduce the idea that if we try and understand each other, we may even become friends.
Maya Angelou
The Expeditions take students and teachers on journeys of discovery, exploration and mystery while promoting greater understanding of and between people of different cultures around the world.
More about ALF
---